My recent purchase from
OCC
. They are very quality pigments and lip glosses for a good price.
Lip tars costs about USD$12.50 each and the loose pigments costs USD$10.00. The shipping & handling to Singapore was USD$15.00. Total waiting time for the items was about 10 days.
Loose Pigments:
Heroic
Glisten
Auric
Platonic
Lip Tars:
Tarred
Feathered
Melange
Pegaent
Safety Orange
Vintage
Clear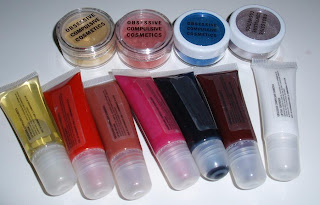 Swatches of the pigments
Pros:
- Super pigmented
- Value for the money
- The lips tars are versatile. Can be used as lipsticks or as lipglosses.
- Pigments are multi purpose too. Can be used on eyes, lips, face and body.
Cons:
- Lip tars can be alittle drying. Lip balms are a must!
Love Love