If I am not shuffling through my makeup stash or surfing the net or reading countless online resources about parenting, you can find me doing bead embroidery! I just love how therapeutic it is. I did mention this in an earlier blog post (click
here
). Sadly, I am not able to sew much as I find it very difficult to stand too long or sit too long, so that is on the back burner for now. Since my ever growing belly is getting in the way of my other hobbies, bead embroidery has come to the rescue as I can comfortably sit in my cosy sofa and do it for hours.
Here are two of my bead embroidered pieces.
The black beads are from Indonesia (Bali). They are volcano beads! Brings back lovely memories as I bought them while my husband and I were on our honeymoon. The blue and black seed beads are czech beads bought here in Sweden. This will be a piece I am going to keep for a very long time. Perhaps pass it down to my child/children one day!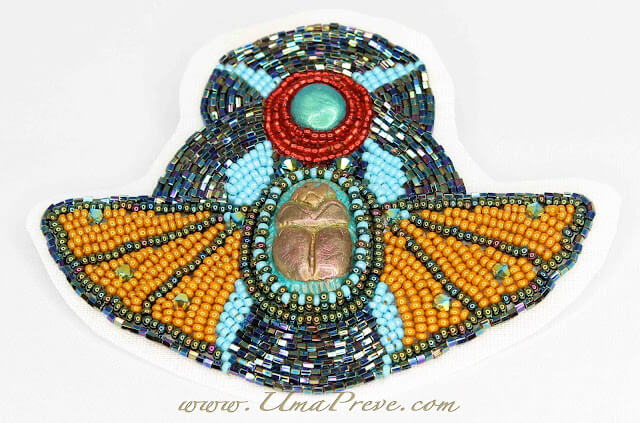 This piece was inspired by Egyptian art which I love so much. The scarab is made of polymer clay. In fact, this was the first time I had my hands on polymer clay. It turned out ok, I think. I painted it with nail polish from Orly (space cadet) to give that duel tone effect. Not sure if it will last but it was worth the try. I might use this piece in a clothing design. It's work in progress for now.
If you want to see more bead embroidery that I have or am in the process of doing, please watch the b/m videos on my DIYFashionista Youtube channel (click
here
).
Here are some links to Youtube channels where you can learn the basics of bead embroidery. This was how I learnt and progressed with my projects.
- Beadaholique.com - Click
here
- Beads friends - Click
here
- Tsummerlee - Click
here
I am still learning and I am glad to have tried this art. I must admit, bead embroidery is a test to my patience and I can't believe that I can do it for hours in a stretch without feeling frustrated or distracted, so it is a pleasant surprise for me. Yes, I have the attention span of a 5 year old at times! :)
Thanks for stopping by! How is your week so far? Do you have time for a hobby?