Here is a look I came up with. All of a sudden, I got inspried to do this. Unfortunately, I did not press the rec button on my camera when I was applying the colours on. Sorry, I have the photos of the end result only. Anyway, I hope you like this look! It is a little dramatic.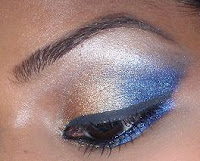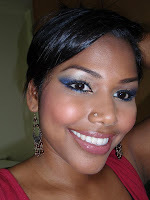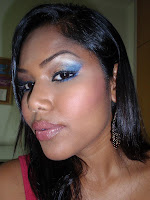 Here are the products used for this look!
Mac - Indianwood paintpot (base)
Matte black eyeshadow (for the cut crease)
42 colour stackable e/s & blush pallete (Shimmer)
- Gold (inner 1/3 of the eye)
-Blue (outer 2/3 of the eye)
-Navy blue (outer corner of the eye/crease)
Mac - Ricepaper (highlight)
Mac - Liquid eyeliner(upper and lower lashline)
Mac - Engraved eyepencil (waterline)
Nyx - Milan (lipstick)
No brand - Silk orchid pink (lipgloss)
Hope you like it! Thanks for visiting my blog.