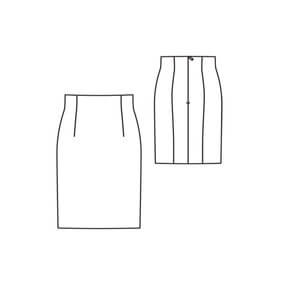 High waist fitted pencil skirt
34 to 42, I choose size 34 for my waist and added about 8cm for my hips.
Did it look like the photo/drawing on the pattern envelope once you were done sewing with it?
Well, it was not the same as the illustration because of the fabric choice but it was similar.
Were the instructions easy to follow?
I did not use the instructions from the magazine as I felt that it was really confusing and written badly.
What did you particularly like or dislike about the pattern?
There was nothing I didn't like about this pattern.
Pattern alterations or any design changes you made:
I did not add a hem allowance. Just folding up 4 cm and stitched so that shortened the pattern. I didn't add lining to the skirt as recommended.
Would you sew it again? Would you recommend it to others?
Yes, for sure. I like skirts like this. Pencil skirts are classic pieces to have.