I thought I would never say I have a favorite mascara now. This is coming from someone who is very picky when it comes to makeup in general. I have found the one that works really well with my lashes. Gives me the best looking lashes even on my worst days.
Presenting... Loreal Double Extension mascara in carbon black.
This is a two step mascara. It comes with a conditional base that is enriched with Ceramide R which visibly lengthens the appearance of the lashes when applied. It applies white but dries clear. So don't worry if you do forget to apply the black mascara, you will not look like you have frosted lashes . Now for Step 2 fortifying extending mascara, it distributes the black color from root to tip without leaving clumps.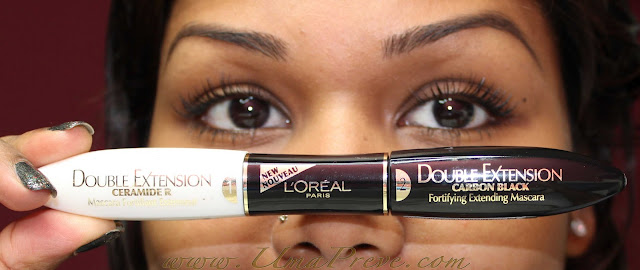 Let me show you how I apply this mascara and see for yourself why I love it.
1. Before picture of my lashes. As you can see my eyes look tired and lifeless.
2. Apply the base coat (Step 1)
3. Apply the color coat (Step 2)
4. End result - beautiful, natural and flirty looking lashes.
Likes
- Lengthens my lashes without much effort.
- No need for false lashes.
- A quick pick me up for my eyes, especially for tired days which are quite often these days (pregnancy)!
- No flaking at all.
- Does not smudge even on my oily lids.
- Does not clump.
Dislike
- It is not black enough for me, can be improved.
- Not for those who don't like two step mascara application.
Overall
I love this mascara as it does what I look for in a mascara and that is, it has to lengthen and thicken the lashes. This mascara is slightly on the higher price range even though it is a drugstore brand. However, I feel it is worth the money.
I have used this mascara for about 3 months now. It's time to throw this tube out and buy a new one. With all said, I will still be trying out other high & low end mascaras.
What's your favorite mascara?
(It is cold and frosty in Sweden now. Can't wait for warmer weather. Miss the sun so much!)