If you are spicy food lover, you will definitely love this. Prawn sambal is best eaten with coconut rice. If I remember right, the origins of this dish is from Indonesia. However, everyone cooks it differently. This is my style. It has been adapted to the availability of ingredients. I like to keep things simple. So here is a very simple and delicious recipe.
During our dating days (hubby and me), I used to cook this dish in his place every other weekend. He loved it so much. I guess I found a way to his heart, through his stomach. Lol!

I usually serve the prawn sambal with coconut rice, roasted peanuts, omelete and sliced cucumbers.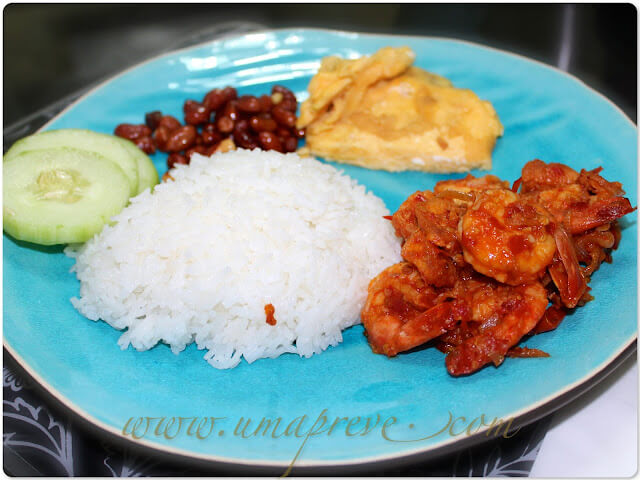 Here is the full ingredient list.
Recipe serves 3-4 people.
Prawns - 1/2 Kg / 1 pound (cleaned, de-shelled)
Tofu - 1 block (diced)
Lemongrass - 1 stalk (smash the ends)
Tomato - 1 large (cut into 6-8 pieces)
Shallots - 8 pieces (Use 1 large purple onion if shallots are not available)
Coconut cream - 2 tablespoon
Fish sauce / salt to taste
Make a paste of the following:
Dried chillies - 15 pieces (soak in hot water for 10 mins to soften chillies)
Garlic - 8 cloves
Ginger - 1 inch
Video Tutorials :
CLICK HERE
Hope you give it a try. If you do, please share your experience.
Thanks for coming by.