Finally got my hands on the Maybelline Fit Me foundation in the shade 320. However I think I am in between shades 315 and 320. This foundation is supposed to give natural coverage that leaves the skin breathable and fresh. For info-commercial about this product click
HERE
!
In the picture below, you can clearly see that I have worn foundation. Also if you have noticed, this foundation is slightly orange on my skin (see After picture).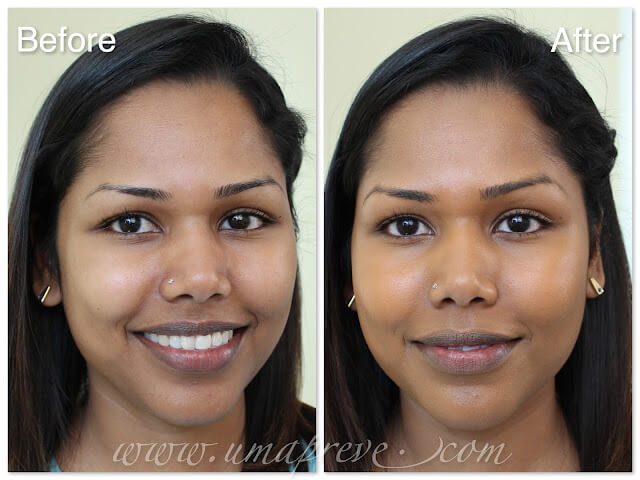 Likes
- Blends effortlessly into the skin.
- Gives a very natural finish to the skin.
- The consistency of the foundation is just right. Not too watery nor is it thick.
- I don't feel like I am wearing foundation as it's very light on the skin.
Dislikes
- Makes my skin oily after application.
- This shade is a little orange on my skin tone.
- No pump provided thus there is likely for foundation to be wasted.
- It gave me two zits on my chin. (an indication that my skin is not agreeing with the product)
- Oxidises a little after a few hours of wear.
Overall
I like the feel of this foundation. It does give light to medium coverage. You will have to set it with a powder if not it's going to let your oiliness come through pretty much instantly. As I have mentioned earlier, 320 is not a good match for me. I did try 315 before and that was too light. Perhaps a shade in between would have worked. Since this is an inexpensive foundation, I did not have high hopes to begin with. So the final verdict is, I will give this foundation a go again in summer, however will not repurchase it again.
Thanks for coming by.