Today, I come to you with a recipe that is fairly easy and is an all in one dish. When I say all in one, that means the dish contains meat and vegetables. This is a dish I came up with in the beginning of my courting days with my then boyfriend (now husband). He likes asian and spicy food. So I thought why not a fusion pasta! (So now you know how I stole his heart ~ the way to a man's heart is through his stomach!)
Thanks to
Eve
, I was encouraged to show my kitchen skills. I never thought anyone would be interested in knowing what I can cook up. Anyway, here is it.
The ingredients needed are:
1) Minced meat - about 500 grams (preferably beef)
2) Streak bacon - 4 slices (optional but recommended as it enhances the taste of the dish)
3)
Cumin
seeds - 1 teaspoon
4) Onion - 1 ea
5) Garlic - 4 pulps
6) Ginger - 2 cm in thickness
7) Lemon juice - a splash
9) Carrot - 1 ea (sliced)
10) Mushrooms - 4 medium sized ones (sliced)
11) Snow peas - a handful
12) Basil leaves - a handful
13) Pasta - fusilli or penne (your choice)
14) Pasta sauce or crushed tomatoes (I am lazy so I use ready made pasta sauce)
15) Salt and pepper
16) Italian herb mix - a pinch (optional)
17)
Habanero
chili - half a fruit (optional)
STEP 1
Cut the vegetables as needed.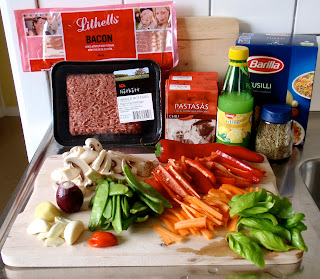 STEP 2
Chop the onion, garlic, ginger and chili.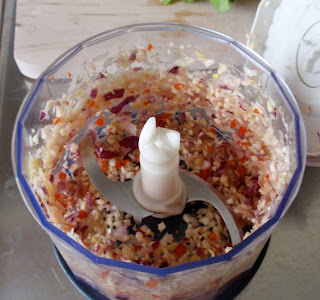 STEP 3
Start boiling the pasta with a pinch of salt in it in a separate pot.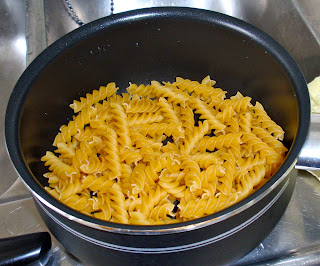 STEP 4
Fry/crisp the bacon, set it aside and cut it into bits. Do not add any oil as the bacon will secreted some fat which can be used later.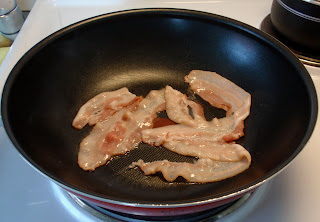 STEP 5
With the fat that is left from the bacon, add cumin seeds, onion, garlic, ginger and chili and start fry it for 1 min.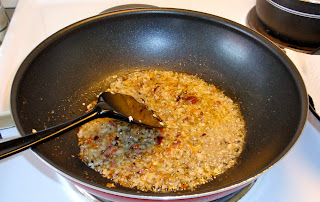 STEP 6
Add the carrots and let it cook for 1 min ( the sweetness of the carrot will come out)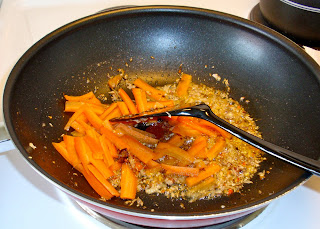 STEP 7
Add the minced beef and let it cook till there is no liquid left from the beef.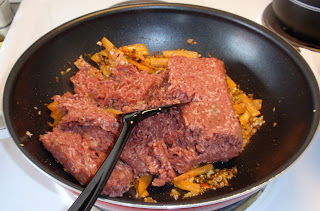 STEP 8
Add the mushrooms, let it cook till the mushrooms shrink in size.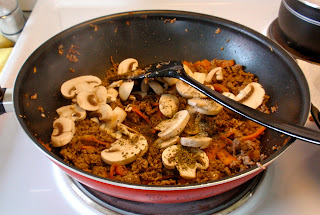 STEP 9
Add the pepper chili, snow peas and the pasta sauce. Mix well and let it simmer for 2 mins.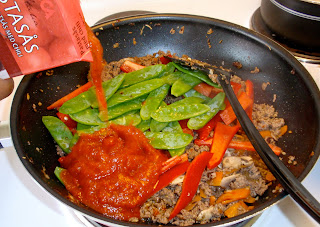 STEP 10
Add the basil leaves, salt, pepper and italian herb mix. Let it simmer for another min or so.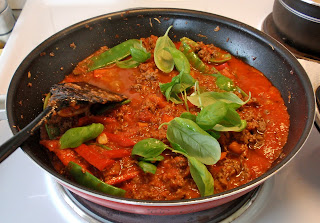 STEP 10
Add the pre- boiled pasta (drain the water as we do not want the starchy water). Give it a good stir, taste and switch of the stove. Let it simmer in the remaining heat from the dish.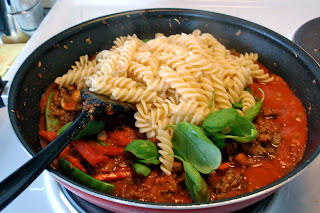 FINALLY
Serve and enjoy!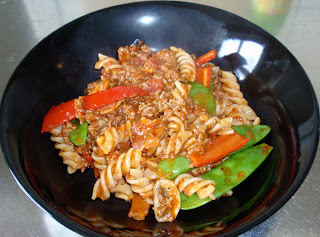 This dish goes very well with garlic bread.
Hope you try it!
Till next time, have a wonderful weekend!
Love Love