Beautyuk (
LINK
) is a UK family owned company which offers quality makeup at affordable prices. This brand can be found at Superdrug stores in UK or for International customers you can buy their products online (
LINK
). I must say, their shipping charges are very affordable compared to other UK based online stores.
I was sent the following product for review purposes. As always, I put the products to test and give my honest opinion.
Beautyuk False Lash - FX (
LINK
)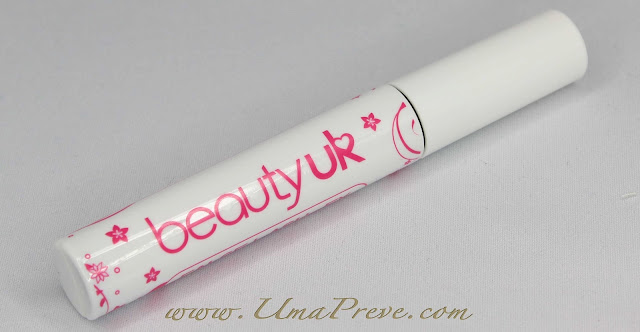 This is in the shade Black. As described in the packaging, it's a false lash effect volume mascara.

The wand is long, rubberized and the mascara brush has two sides with short and long bristles, respectively. I suppose the side with the short bristle is like a comb where it will distribute the product to the lashes without clumps. The longer bristle side will give you volume. I personally found that the shorter bristles worked well for my lower lashes and the longer bristles for my upper lashes.
In the 'After' pic, see how the mascara has changed the appearance of my lashes. This is after applying two coats. For being an inexpensive mascara, I like how my lashes look. In fact, it reminds me of Mac False lashes mascara (less the clumps of course).

Likes
- Inexpensive mascara that delivers.
- The bristles are lovely. Short side for lower lashes and longer side for upper lashes.
- The wand is long thus I have better control and don't have to worry about smudging the mascara all over my eyes. (However, this is personal preference!)
- It's build-able in terms of how thick and voluminous you want your lashes to appear.
- Not clumpy at all.
Dislikes
- Not waterproof, so be prepared for the mascara to travel around the eye region after a couple of hours of wear or if you have watery eyes.
- Not pigmented enough. (I like my mascara super duper black, another personal preference!)
Overall
For being a drugstore product (at least in the UK), it delivers good results. I really like the shape of the wand. Makes mascara application less complicated.
Has anyone of you tried this mascara? If so, what are your thoughts?
(Product was sent for review purposes.)