Today, I had to let go of one of my favorite item. Since we are moving to Sweden, I will not be able to bring this item with me. Nevertheless, it has served me well. Good bye my beautiful Motorbike! Sadly today, I had to sell it. :(
I am a bike rider for the past 7 years. I really enjoy riding as it gives me the freedom to get away from a hard days work. It is so nice to feel the wind while riding. Also It made it possible for me to transport myself between home, work, classes and makeup gigs efficiently. Without this, I would not have been able to achieve all that I have achieved in the past 7 years. I was the 1st one in the family to ride a bike too! Well, not many women in Singapore ride bikes so I am a little proud of it. Never had a traffic accident either. There was twice I fell from the bike and that was because I lost my balance when the bike was stationary (That was plain carelessness actually!).
I guess I have always been adventurous and daring to try things. Since I was in the Army, this was one of the things that made the guys/boys respect me and not under estimate me based on my size (I am quite petite!) and gender. They know I was not a girly type of girl. I had my feminine and my boyish side. The boyish side comes from growing up with three younger brothers.
Anyway my husband is not fond of me riding as he worries too much about my safety (since the day we met!). So I guess he is happy I let it go! Well, he promised a car in Sweden. So I am looking forward to that.
This is one something that I would like to share with all ladies with dreams and aspiration. Always believe in yourself. Never under estimate your abilities and capabilities. You will never know until you give it a try. So if you want to ride, make sure to be safe on the road. Never drink and ride. it's not worth the risk!
Here are the pictures of my two bikes!
My 1st bike : Honda CBR 150 (150cc)
Rode this from 2003 to 2006

My 2nd bike : Honda Super Four Spec III (400cc)
Rode this from 2006 to 2010 (today)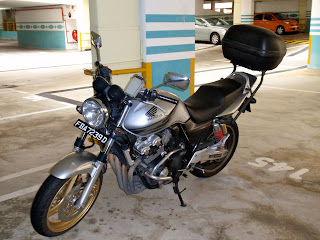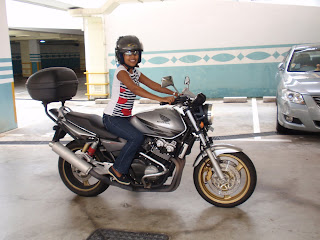 With time all things have to come to an end. My Motorbike riding has come to an end. Looking forward to drive now!
Love Love!