It's review time. This time it's revlon colorstay eyeliner. I got two liners, one in black and the other in navy blue.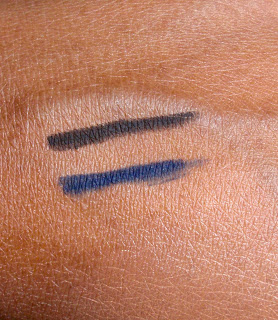 Reason for buying this was plainly because I was and still am in search of a good eye pencil that does not smear or smudge.
I just hate looking like a panda bear after a long day. I have watery eyes and it's worst during Winter when it snows like crazy. Also when the weather is humid (like Singapore), my eyes get oily.
I waited till I was in Singapore to purchase this as in Sweden everything is like 3 times more expensive and It would not make sense for me to spend so much on a drugstore brand.
In Singapore this eyeliner retails at around SGD$13.00 - SGD$15.90. I got mine at Mustafa centre at $13.90. To me that was a good deal for something that I was not really sure about.
Now for my true, honest and unbias opinion about this eye liner.
Pros
1) As it says, it is colorstay. It does not smudge at all, even after 9 hours of walking and perspiring.
2) Comes with a mini sharpener on the other end.
3) Comes in 6 colours. I got only two (Black & Navy Blue) so I can only show you swatches of the two.
4) Waterproof so it would be great for those who love swimming, walking in the rain and many more fun activities (*wink*).
5) Don't need to sharpen as it comes in a retractable/twistable body. Even though it comes with a sharpener, I don't see a need to sharpen.
Cons
1) It's not pigmented enough for me. (I am comparing it to MAC Feline, I like my khols really pigmented)
2) Needs a little more pressure for the eyeliner to show on the waterline. I am not very comfortable with that as it can hurt if it's too much pressure.
3) To remove it, you need a oil based eye makeup remover. Water does not work with this.
Overall rating would be : 3.5/5
Conclusion : Even though it did not smudge or smear or fade, I wish it was a really pigmented and glided on the waterline easily. Thus, my search for a good eyeliner continues.....
Hope you find this review useful.
Let me know you thoughts about this product and feel free to recommend eyeliners that you think might work for my oily/watery eyes.
Ciao darlings!