It's been almost two weeks since I moved to Sweden. It was not the best start as I was very sick. It all started with terrible body ache and cough. I had very high fever on the 2nd day after arriving. Went to the local doctor and had it checked up. Since I did not have my personnel number from Sweden (equivalent to a visa number), I was charged close to SGD$300 (foreigner rate).The doctor said that I had a bad infection and needed to monitor the fever and rest well. The next day my fever was close to 40 degrees celsius, it was getting worse. My mother in law and hubby brought me to the local university hospital for a better check.They were so worried as they have not seen me like that, mourning and crying because of the bad body pain and fever. The doctor took some blood samples and put me on a IV as I was very dehydrated. After which I was told to get some good rest as it seemed like it was a bad infection. The next day, the doctored called my husband and confirmed that I was having the swine flu/H1N1.
Must have been infected on the flight as I was very healthy and had no symptoms of any kind of sickness prior to leaving Singapore for Sweden.That was a tough time, I was feeling terrible and missed home so badly. I remember longing to go home! But wait home was were I was (Sweden). It was tough! I was down for 10 days almost. I managed to get through it with the support of my husband, mother in law and father in law. They were so caring. It was a difficult time for them as they were potential H1N1 carriers and could be infected too. Came to know later that my husband's grandmother was sick with similar symptoms 10 days after I was ill. I know it was me who must have infected her as we visited her after arriving to Sweden.
Anyway, I am so much better now! Trying to adapt to the surroundings. Sweden is cold for me. The temperature varies between 0 degrees - 18 degree celsius during Spring. The temperature I am used to is between 27 degrees - 35 degrees celsius. My skin is so dry and scaly because of the change in temperature. I miss Singapore however I am glad to be in Sweden with my husband. It is a new life experience. I am glad I have a chance to live and experience a new country and culture. I am blessed!
Things are different here in Sweden. The native language of the citizens is Swedish. They do speak english when requested. My first language is English and my second is Tamil. So as you can see, I am having troubles with the language. All signs and information are in Swedish so it makes it difficult for me to understand. Thank God I have my husband to translate for me. It is not easy for me in the language department but I will have to get by it some how. Maybe I might learn basic swedish.
With the language and climate situation against me, there are some things that puts a nice smile on my face. In the place I am staying in Uppsala, they have LUSH! The store where they sell homemade soaps and lotions. OMG, I was so delighted. Got myself some nice smelling soap and cuticle cream.
Don't mind the dull face, I just recovered from H1N1.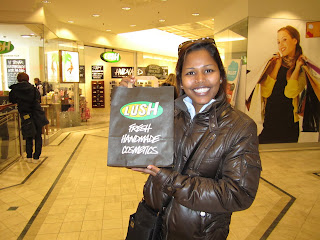 The loot I got from LUSH:
Honey I washed the kids (Most raved about on Youtube)
Rockstar
I should coco
Lemon butter cuticle cream
Sex bomb bath bomb (Got it free as I made friends with the counter gal)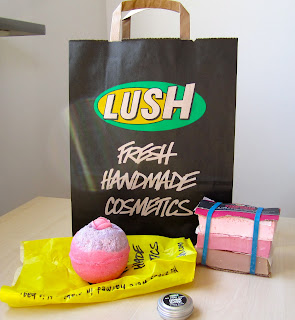 It has been an eventful two weeks. However, it is an experience and I am hoping I will have more time to blog and share my thoughts about this new phase in my life and the delights that come with it. Till next time darlings! Have a great day!