Hi Everyone,
It's Valentine's day! A day to celebrate love, be it with your other half, family members or even a good friend. I wish you all a very Happy Valentine's day!
This is the last tutorial for the Valentine's day look series. I hope some of you will find it useful and give the looks a try on your own.
This is what I came up with this time around, a simple, classic and romantic look that involves minimum products and I am sure anyone can look great in.

Products used are :
FACE
MUFE - All Matt primer
Nars - Sheer glow foundation in Cadiz
Mac - NC44 moisture cover select concealer (LE)
Camera ready cosmetics - Yellow loose powder
CHEEKS
MUFE - HD blush #2 (raspberry colour)
EYEBROWS
Mac - Dipdown fluidline
EYES
Mac - Indianwood paint pot
Urban decay - Perversion liquid liner
Loreal - Volume million lashes masacara
Ebay - False lashes (optional)
LIPS
(Look 1- pink lips)
Lakme - pink nude lip liner
Mac - Chatterbox
Mac - Clear lip gloss
(Look 2 - red lips)
Lakme - red lip liner
Nyx - Chaos lipstick
This is the look I am going to wear for the date with my Hubby tonight!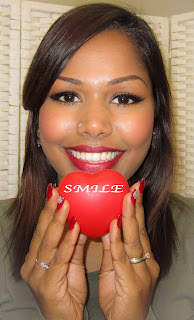 Big hugs to everyone!
Have a nice day and SMILE!