The lovely owner of Spectrum cosmetics was kind enough to send me the lovely pigments to try and review. This cosmetics line can be found on Etsy. They carry a variety of items ranging from handmade soaps, perfumes, foundations and pigments. Their products are high quality at a lower price.
These pigments are awesome! If you are looking for metallic colors, Spectrum cosmetics is the place for you.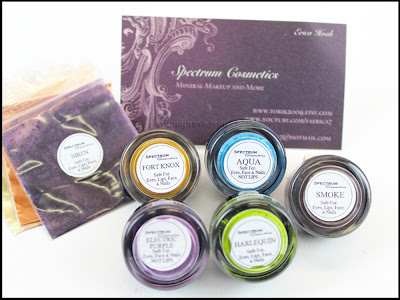 Here are the swatches of the 6 pigments I received.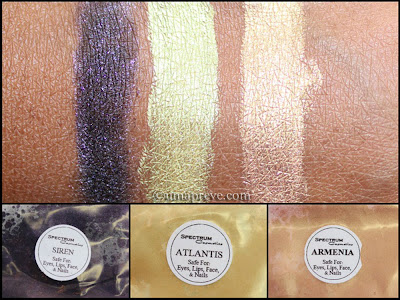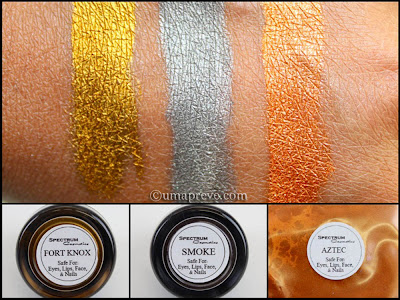 They are so pigmented and very easy to apply. Of course, with most loose pigments or eyeshadows you have to be careful with the products getting all messy with fall outs. My suggestion is use a dense eyeshadow brush to pick up the product. Don't believe me, try it! Good base definitely makes the pigmentation much more intense.
Pros
- Gorgeous pigmentation
- Intense colors
- Easy to apply
- Feels great on the eyes
(For those with sensitive eyes, you will love their eyeshadows)
- Good that they have indicated in the jars on where the products can be used on the face
Cons
- The matte pigment/eyeshadow (Harlequin) was too chalky and powdery
Video review
Thanks for coming by lovelies!