If you have watched one of my recent haul videos on Youtube, I mentioned and showed
Elle 18 kajal
liner and many asked where I got it from & whether it was good. Well, I have tried it several times and it is a good kajal liner. I own many kajal liners from various brands and have always been very disappointed with them as they never seem to stay well on my (watery) eyes and they smudge like crazy. Some even irritate my eyes (I do have sensitive eyes!).
This kajal is a keeper! It costed me SGD$2.50 only. I bought it in Singapore, Little India Jothistore. Many local indians should be familiar with this store. However, for my international readers, you can buy this kajal from this site,
Mall Coimbatore
(<= click here for link). It retails for USD$3.95 including worldwide shipping. Seems like a good deal.

It glided on my waterline very easily. The consistency is smooth and the pigmentation is really good. As you can see for yourself in the pic (below), it is very black and that's the way I like my kajals!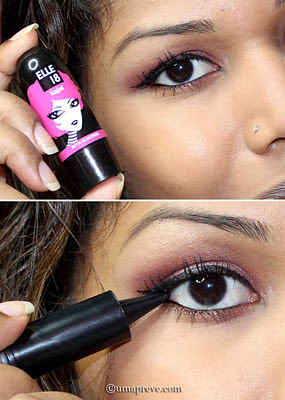 I did put it to test in Singapore (hot & ver humid climate) several times. It worked well for about 5 good hours but started to fade after that. However, it did not smudge at all! Usually, most of my eyeliners smudge within an hour after application if I wear them alone without setting them with an eyeshadow. I have worn it in Sweden (cold and dry winter time) too, it seems to last much longer than 6 hours.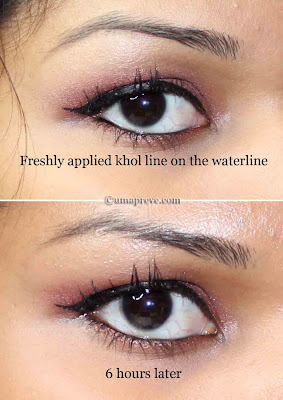 It was very easy to remove the liner and it does not leave any dark residue afterwards like some kajals tend to.
My overall view :
Likes
- Very pigmented.
- Did not smudge even in hot and humid Singapore.
- Glides on the waterline without much effort.
- Inexpensive product that works.
- Did not irritate eyes.
- Contains almond oil which is known to be good for the eyes.
- Easy to remove with a makeup remover.
Dislikes
- Nothing at the moment!
Could improve
- If it was in a pencil form that would be much more convenient for those who are used to using pencil liners.
- If only it came in more colors.
Now, I can finally say, 'I spent my $2.50 well!'
If you have missed my Singapore haul videos, here are the links!
Thanks for coming by lovelies!