It's 0 degrees here in Sweden. The sun sets at 430pm and sun rises at 8am. It's always cloudy and dull. How do you deal with darkness and cold? I really do not know how. I try not to look at the clock so that I don't freak out at how the days are shorter. My skin is has lost most of the sunny glow. Now it looks pale like I would when I'm sick. How do I deal with that?
I didn't realize how much the sun is important in ones life until now. Thank God I am going back to Singapore in Jan for 3 weeks.
Even though life is good, we always tend to find something to complain about. For me it's the cold and darkness. I am so used to having sunlight/sunshine from 7am till 630pm back in Singapore.
Don't mind my rambling, hope you are having an awesome weekend. How is the weather on your side?
This is how it looks outside my home.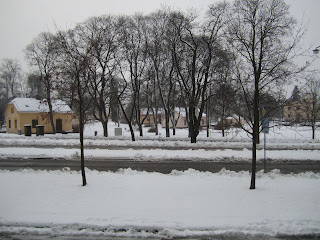 :)
(PS: I am planning a giveaway so hopefully it will be revealed soon!)