I am always on the look out for good yet cheap products that work just as good as expensive ones. I think this time I found one that really works.
It costed me SGD$2.00 only. This is a detergent for makeup puff and sponge from Daiso. Even though it says it's for sponges and puffs, I have used it for natural and synthetic hair bristled makeup brushes. It works beautifully! Makes my brushes squeaky clean, just the way I like it!
Daiso is Japanese owned franchise where most of the products are low priced. In Singapore, all items are priced at SGD$2.00. Loads of fun things that you can't find in a regular departmental stores. I am sure Daiso is available in the USA as well. Just google it!
Previously, I was using shampoo to deep clean my brushes. The reason why I did that is because the brushes I mostly use are made of animal haired bristles so it only made sense for me to use shampoo as I would to my own hair. Many of my brushes have lasted me for a really long time. I have brushes that are 9 years old. Yes, I have really old brushes that look just as good as new ones. Moral if the story, if you take good care of the brushes, they will last for a long time (I mean really long!).
How to use the detergent : Place a drop or two on a dish or your palm. Lather up with the dirty brushes using swirly motions and rinse off in luke warm water. Place the brush on a flat surface to dry overnight or for a couple of hours.
Here you can see the how clean the brushes are after using the Daiso detergent to wash them with.
MAC 217 (Animal hair bristle)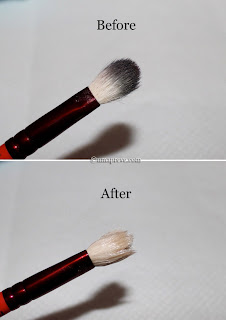 Sigma F80 flat top kabuki (synthetic bristle)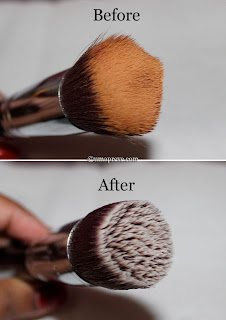 I like how my Sigma F80 brush is clean and the white bristles can be seen. Previously, I was not able to clean this brush well even with mild dish washing liquid and shampoo. Finally found a product that works.
I hope to get a couple of back ups before I leave for Sweden soon.
I hope you found this post useful and perhaps try the brush cleaner for cleaning your brushes, sponges and puffs.
Hope you all are having a great week.