For a very long time, I have stayed away from airbrush makeup as I found it very expensive and intimidating with the loud compressors thus never included it is my professional freelance kit. Also, I learnt to apply makeup the old school way and that is to use makeup sponges and brushes so it was quite difficult to make the cross over.
Finally, took the leap and I am loving the results of air brush makeup with
Luminess Air brush system
. I just love how my face feels and looks like after airbrushing. Beautiful, glowing and radiant skin (of cos pregnancy has also contributed to the glowing LOL!). It lets my natural skin show true. This is how makeup should look like, it should not be a mask which most often is when applied wrongly.
Here is a before & after picture of me with the airbrush makeup. In case you were wondering, I have done no digital retouch at all.

See the difference!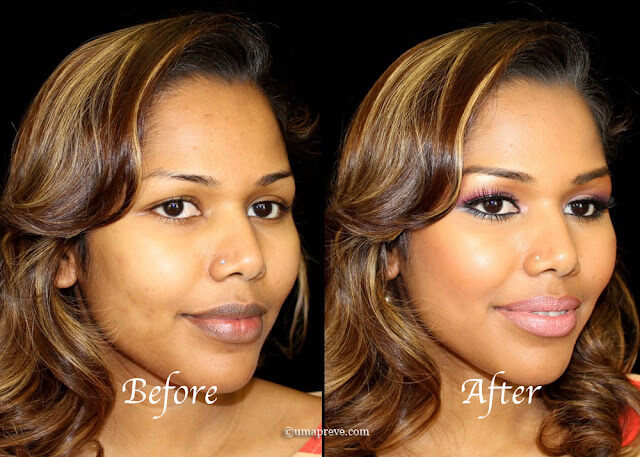 Here are the pictures and details of the what comes in the kit.
Four different shades to try. I am in the Tan/Dark range and chose the Ultra finish foundation. Shade 7 suits me very well.
Bronzer, blush, brightening glow and moist primer is also included.
Air brush eyeshadow kit for brown eyes.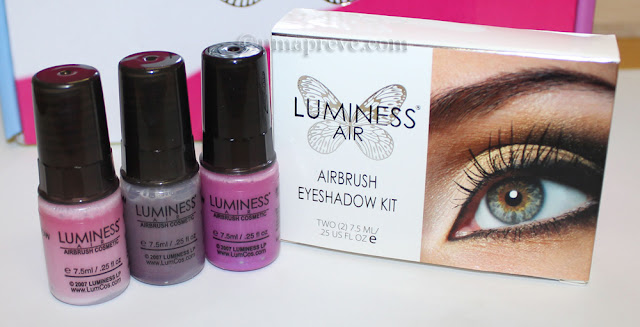 What I

liked

about the Air brush system
- My skin looks flawless and radiant.
- It was so easy to use, beginner friendly.
- Love how you could build from light to heavy coverage.
- There are 3 different types of foundation finishes to choose from. Ultra (mix of satin and matte), Satin (for a dewy finish), Matte (for oily skin).
- Portable compressor which is not noisy.
- Super easy to clean and maintain after every use. (great that a cleaning bottle is included in the kit)
- The foundation is water based so it's lightweight on the skin.
- Great for sensitive, problematic skin.
- Water resistant (Not waterproof).
- Makeup does not transfer, if only using airbrush makeup without powder or anything on top of it.
- Great kit to travel with.
- Makeup lasted for 6 hours (after that the oily t-zone started to show).
What I

Disliked

about the Air brush system
- Did not minimize wrinkles or pores as claimed on website.
- The eyeshadow kit is not work for me as I found it extremely difficult to apply on myself.
Overall feel
- It is a great beginner kit and even a pro kit for a makeup artist.
- I would definitely repurchase the foundation shades in a bigger bottle/container as I like the formula and consistency of the makeup.
- A value for money kit. The compressor is a one time investment so what you will have to repurchase is the foundation, blush, bronzer when they run out.
Luminess Air brush makeup demo/tutorial video, so you can see how easy it was for me to apply it.
Here is the review & giveaway video. Luminess Air was kind enough to sponsor a giveaway.
Watch video for details!
This is the giveaway
prize
. It is worth about $200.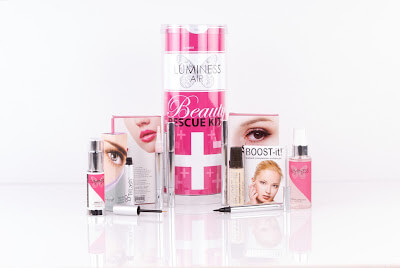 Hope you guys will participate in the giveaway on my
Youtube channel
and win this kit.
Thanks for coming by my lovelies.
(Disclaimer: Item was provided by company for review purposes. I say what I feel and never feel obliged to give a bias review. I stand by my view always!)