I love Beauty UK products. They are not only inexpensive, quality is not compromised. Here is an item I received a while back, Jumbo Eyeliner & Eyeshadow. One end has a creamy smooth eyeshadow and the other a black eye pencil. It is a very convenient makeup item to have in any daily makeup bag. Not only can you line your eyes, you can also add colour by just using the other side of the pencil.
Beauty UK Jumbo Eyeliner & Eyeshadow pencil in black & turquoise.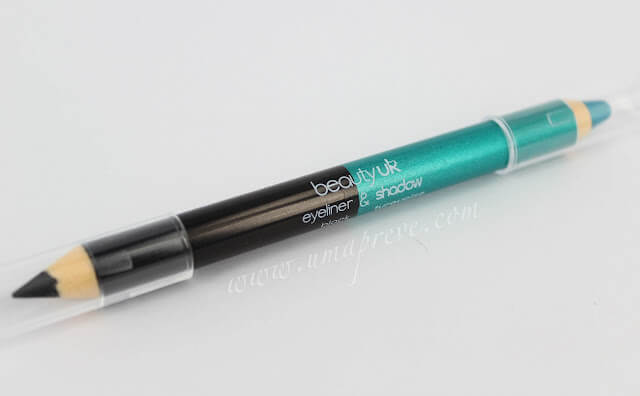 Swatch applied on bare skin.
Likes
- Convenient product to have.
- The end with the turquoise eyeshadow is superb. Beautifully glides on when applied.
- Both eyeliner and eyeshadow are very smooth to apply. Thus no tugging on delicate eye area.
- Budget friendly makeup item. It only costs
£2.99.
Dislikes
- Smudges after 1 hour of application if I do not use any eye primer.
- The black eyeliner does not stay on my waterline (I do have watery eyes!).
Overall
I don't think one can compare this product with the NYX jumbo pencil as they are both very different. I personally like Beauty UK Jumbo Pencil as it is pigmented and creamy without being messy. However, the staying power is not as good when applied without a good eye primer (I have oily eyelids and most of the time, I need to use an eye primer!). Overall, this is a pretty good item to have if you like to have multi use from your makeup.
(Product was sent for review purposes)