Back with another party appropriate look for the coming New Year's Eve celebration. This look involves quite a bit of blending and patience. Also for some, red lips might be too much. I have included a picture of me with a muted lipstick shade so that you can see how versatile this look can be.
It's that time of the year where you get to wear over the top looks and look fabulous counting down to the New Year. Have fun and enjoy the process of making yourself up.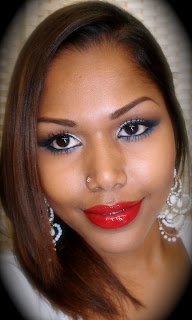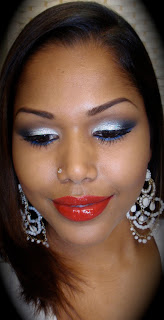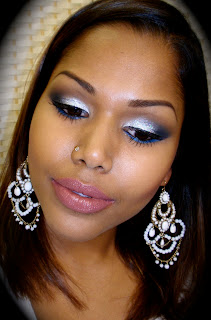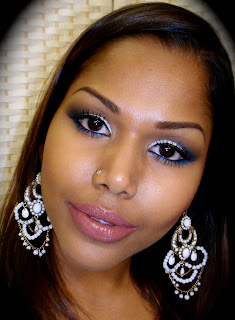 Here are the list of products used for this look
EYES
Two faced - Shadow insurance (primer)
Nyx - Milk jumbo eye pencil (white base)
La femme - White #21 sparkle dust ( pearl white loose shadow)
La femme - Brown e/s (crease)
La femme - Black e/s (outer V)
Mac - Medium/dark mineralized skin finish (highlight shade)
La splash - Splash proof sealer (sticky base of the glitter to adhere)
Mac - 3D sliver glitter
Urban decay - Perversion liquid eyeliner
Loreal - Volume million lashes in black
CHEEKS
Sleek - Sunrise blush (used as contour shade)
LIPS
Maybelline - Cranberries lip pencil
Makeup Academy - Shade #13 red lipstick
Mac - Fast play lipstick (for a muted lip colour if you don't like red)
Hope you give it a try!
Thanks for coming by.
:)