UPDATE:
Customer service rep from Eve Pearl office contacted me on the 24 Dec 2010. We have resolved this matter. Here is the explanation by them, for the spots found on the cream products.
The belowmentioned is extracted from the email sent by the customer service rep Aina Lee dtd 24th Dec 2010.
Following is some information provided by our chemist on the composition of our products which we hope will provide a clear explanation to your claims about our cream products, particularly the section in red as it directly addresses your claim:
These cream formulations and mixtures are developed, mixed and Hot Poured (by human hand) right here in New York and overseen by our chemist. This is why sometimes not all sides are exactly even or smooth…they are not poured by a machine or made by the thousands…they are made for us on 30-60 day orders…several hundred at a time.
These EVE PEARL formulations are ANHYDROUS: Products that do not contain any water such as balms and ointments are self-preserving with only the necessary antioxidants contained in the products. This is why they feel like your skincare without a thick waxy texture…because it is like your balm or ointment and will treat your skin…naturally.
At times you might see spots, dots or crystallization that might occur on the top of the products. This will indicate mottling and/or syneresis which happen commonly in anhydrous product that deal with drastic temperature changes (usually cold temperatures). This is NOT a cause of Fungus or Bacteria. Fungus and bacteria can only produce in the presence of water in the product. There is absolutely no water contained in the concealers and foundations. While it may not look as attractive there is no harm to use the products and it does not affect the quality of the products…You can use as is or if you want it to look smooth, simply mix the cream. If you are still uncomfortable to use the products and wish to send them back, we will absolutely refund your money.
Also, during extreme heat, these same Foundations/Concealers/Cream Blushes will melt…once again, as any balm, cream or ointment will. Once again, melting will not affect the quality of the product. Once it cools off it will harden up again. This is a good thing to know for makeup artists who want to keep their products always looking smooth…you can use a hair dryer over the creams to create a smooth surface. We actually fill our Pro Palettes right here, by heating the product and then pouring it into the empty Black Palette. Because there is NO water in the products, they will not dry up or evaporate or grow any mold or fungus.
Shelf Life: On all the packaging with Boxes (like our HD Dual Foundation) in the back there is a little open jar pic that says 18M which means this product is good for 18 months from date of opening. This is compliant with all global regulations. Only food products can have a precise date of expiration. This indicator, however is not on our Foundation and Concealer trios, and as a result of your feedback we will post this information on our website and in the near future adjust our packaging accordingly.
Your order was scheduled to be delivered on December 8, but was not delivered until December 13

th

due to delivery rescheduling at your request, thus leaving the package vulnerable to the extreme cold temperatures in Sweden. This is a factor that must be taken into consideration as well.
The Pro Trio kit you ordered was not included in the Black Pearl promotion and therefore is eligible for a return. Normally returns are shipped back at the customer's expense, but we will allow you to ship your products back at no cost to you and grant you a full refund, store credit or replacement items. Whatever your preference. We will send you a return label so you can send the products back at our expense.
-------------------------------------------------------------------------------------------------------------------------------
Disclaimer : I am not here to hurt anyones business. It is not my nature. I always want to give my honest, unbiased opinion about the products that I pay with my own money or even the ones that are sent for reviewing purposes. This review is about what I received and how the company handled my complaint. It is
not
about product efficiency as I have not used any of their products on my face yet.
As the post title explains, it is about my bad experience with Eve Pearl, staff and her cosmetics line. Many of you would have heard about the 5 times Emmy award winning makeup artist Eve Pearl. I have been a fan and follower of both her work and Youtube channel. It has been on my wish list to try out her products as they seem very well suited for women of various skin tones.
About two weeks ago, she had a black friday sale (up to 50% sale on selected items). I quickly placed my order as it seemed like that was a good time to try out her products. The total cost including shipping came up to USD$226.19.
Priming Moisturizer with Astaxanthin
1
$35.00
$35.00
HD Pro Trio Kit: Foundations, Concealers, Blushes
1
$160.00
$160.00
Magic Salmon Concealer (L/M/D)
1
$50.00
$50.00
| | |
| --- | --- |
| Sub-Total: | $ 245.00 |
| Coupon discount: | $ 0.00 |
| Gift certificate(s) value: | $ 0.00 |
| Another discount: | $ 34.00 |
| Sales Tax: | $ 0.00 |
| Shipping: | $ 15.19 |
| Handling: | $ 0.00 |
| TOTAL: | $ 226.19 |
To me that is a lot of money, however, I felt that since her line is well raved about, I should be getting good things. I made a mistake obviously.
Out of the 8 products I ordered, 6 of them were unfit for use. They were all cream products. To my untrained eyes, it seems like something organic growing (fungi?) on them. I would never want to put these products on my face or on my clients.
To clarify the matter, I sent them an email with a picture of a concealer with the suspicious spots and asked them for an explanation and resolution. There was no reply from them so I went ahead and wrote a comment on their Youtube channel about my email. They replied to it. I will add the
link here
so that you guys can see what was said (username UmaPreve and EvePearl). There you will see that I asked them to respond via email. Well, they were not tactical, they chose to respond publicly and continue defending and disregarding my complaints about their products/ my order. What made it worse was that Eve Pearl herself wrote some things that I felt were very unprofessional and intimidating which I till now cannot accept. This is because I have always had the impression that she is a very nice level headed humble woman. Now I feel otherwise.
Not even for a moment did she consider that maybe I could be one of the unlucky ones to have received defective products and that maybe I was trying to tell her something about one of her potentially bad batches. I am really very upset with how this whole incident was handled.
Now I have to spend my OWN money to ship the defective items back to Eve Pearl so that they can refund me based on the purchased price. How is this fair to me! I am the consumer who received bad products, quite likely, due to an erred quality inspection or to poor shipping and now I have to pay more to get my money back! You are not a good company in my book!
In my honest opinion, this whole incident could have been resolved between the company and myself if only they took the time to forward the email they claimed to have sent to me. Instead of intimidating and patting me on the head with their comments, they could have tried to listen to what I have to say.
Here is something that I find alarming about Eve Pearl's cosmetic line; there is no manufacturing date, no expiration date or even a batch number on their products. I find it strange that a makeup company can even present a product line without at least one of the above mentioned quality control measures to thousands of beauty/makeup enthusiasts like myself. All makeup items have a shelf life!
I have learnt my lesson. I will never put my money on Eve Pearl cosmetics line ever again. This whole experience with them has been very bitter and unpleasant, which could have been avoided if they just listened!
Here are the pictures of the products that have suspicious looking spots/growth on them :-
Concealer Trio 'B'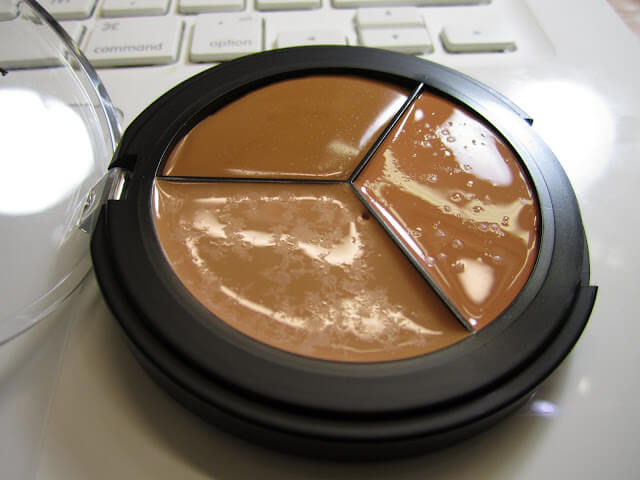 HD Blush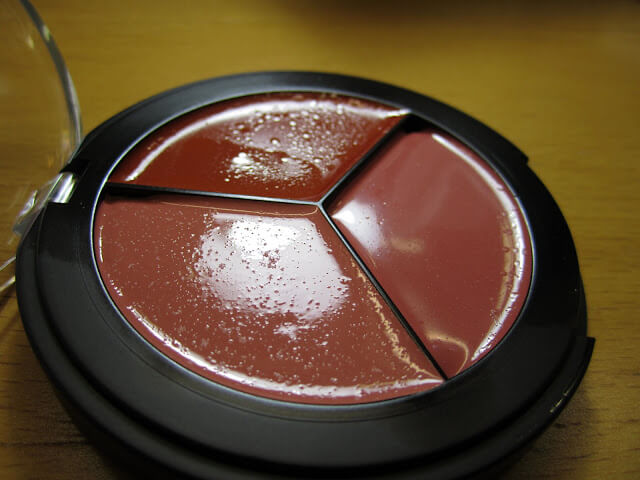 Foundation trio A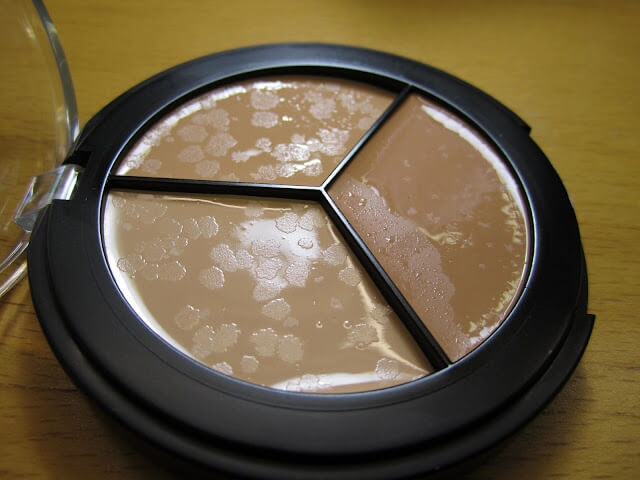 Magic salmon concealer Trio 'A'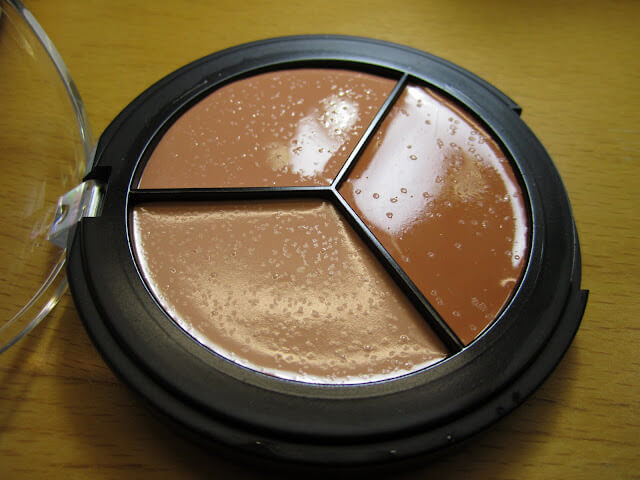 Foundation Trio 'B'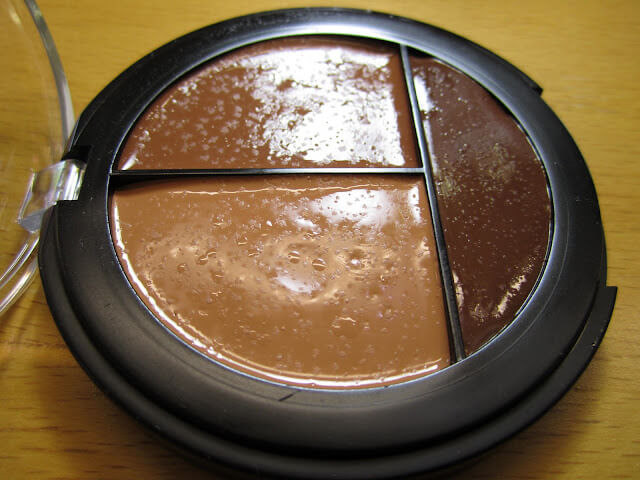 Magic salmon concealer Trio A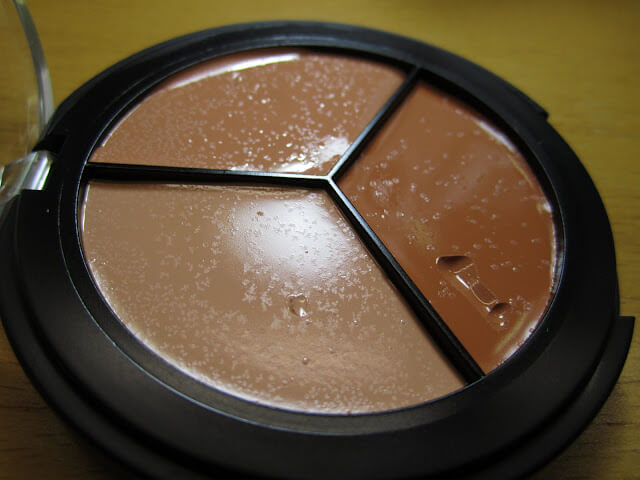 These were the only two items that seemed normal and usable.
Priming moisturizer & Concealer Trio A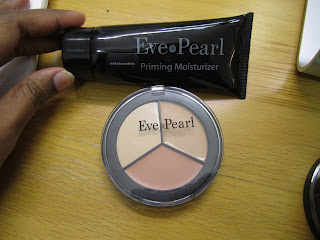 The only concealer that had no nasty stuff out of my order. You can see some vaporization, which I can understand could have been caused by transportation, temperature change, etc...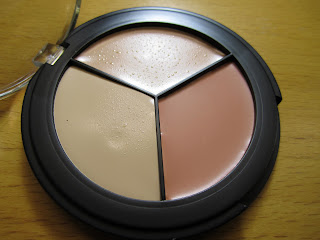 A good company will always listen to their consumers!