I had so much fun window shopping and shopping. It was fun doing it with my Mum. She has good eye for colour. So yesterday, we went to Little India (a street where you can find anything Indian, eg spices, clothes, accessories, etc... I love this place, love all the smell and colours). I wanted to buy a Sari so we went to a Sari boutique.
These were the 3 Sarees that made me all excited. You may not see excitement in my face, that's because the salesman was rambling away and I was trying to listen to what he was saying. I can understand Tamil but I can't understand when spoken with a slang which is very common from Native South Indians. I know it sounds weird! Oh well, I am weird .... sometimes! :)
1. Maroon colour with antique gold sequins/artwork

2. Deep green with pewter gold sequins/artwork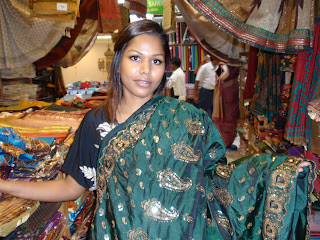 3. Dual toned blue/purple with rose gold artwork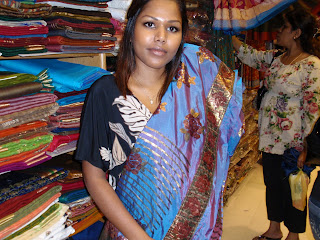 Now guess which one of the above I bought. I want to know what you guys think of the colours and which one looks pretty to you...
I bought the sari no.1! It was my Mama's choice.
Do you think it was a good choice?
Anyways, I also went to Makeup forever and two products form them.
1. MUFE HD primer #01 - SGD65.00
2. All Mat Face primer - SGD78.00 (Got one for my Mummy as well)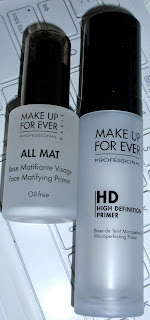 I am so excited to try them and do a review. I think I am in the right country(hot and humid Singapore) to try products that claim to matify the face. If it works well here, I am sure it will work well in other not so humid countries. It has always been a challenge finding the right matifying primer that works. I have oily t-zone. Anyway, I will do a review as soon as I am done with testing the above two.
After the disappointment with Eve Pearl cosmetics purchase, I told myself that I will only buy products that are well established like MAC, MUFE, Urban Decay, etc...
Anyway, with regards to Eve Pearl saga, I was contacted by the company after I sent out the (unfit for use) products back to them. They did not apologize for the way they treated me but they admitted that the email that they claimed to have sent to me, was not sent after further investigation. Seriously, they need to improve their system. Oh well, it's water under the bridge. Just waiting for my refund and I just want to move on. Even thought they have made a video explaining about the spots and stuff recently, I am still not convinced and that is not going to change my opinion about them as a company. I will do a video response soon after I receive the refund from them. So stay tuned for that!
It feels great to be back in Singapore! The sun really makes a difference in my mood! Even my husband said that I looked happy while we chatted on Skype!
Ok, now it's lunch time here, I am going to have my Mum's home cooked lamb curry with cucumber salad now. Yum Yum!
(By the time my vacation is over in Singapore, I think I will return to Sweden as a chubby Uma! hahaha!)
:)