Here is my first make up tutorial for 2010. This is also the first talking tutorial. It was quite difficult talking while applying makeup. Nevertheless I did my best. There is always room for improvement.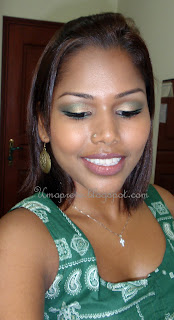 Here are the products used for this look.

EYES

Mac Paintpot- Indianwood (inner lid)

Mac Paintpot- Moss scape (outer lid)

Lakme quad- peacock green e/s (outer lid)

Mac pigment- Melon (inner lid)

Ben nye- Toffee (blending colour just above the crease)

Ben nye- Twilight sable (outer v)

Nyx trio palette - Sahara (highlight)

Mac- Feline eye khol pencil

Maybelline - felt tip eyeliner

Maybeline- turbo express mascara

CHEEKS

Mac blush- foolish me (cheeks)

Nyx blush- copper (contour)

LIPS

Mac - fast play lipstick

Mac - Lipglass in clear

Love love!