Finally got my garment sewing mojo back. However, it didn't turn out that very well. Before moving to Sweden, about 4 months ago, I cut Mccall 5978 view A. I wanted to sew it when I got a good coverstitch/overlock machine. This pattern became one of my UFO (unfinished objects/patterns) for a while. Now that I have a coverstitch and overlock machine, there was no excuse not to finish this project. So today, I thought why not finish this garment and start sewing other garments for the coming autumn and winter.
Since I was working with light weight cotton jersey, I used small zig-zag stitch on my Janome MC 6600. I was so excited to see how the machine handled the fabric and I thought this cardigan would be a winner after completion. Well, it didn't turn out that way.
I followed the pattern instructions and there was one part where I had to fuse interfacing on the facing of the cardigan. Something was telling me that that was not going to be a good thing to do. This was a stretch fabric and how would a normal facing help with the stretch? Well, it didn't. I had puckering on the neckline. I thought maybe ironing it would help flatten the puckering neckline. Unfortunately it didn't either. I really need more practice on knit fabrics. This is my second failed attempt on knits. Just don't want to give up!
Anyway, I still went ahead and sewed everything up only to find out that the garment did not fit me. I was not a XS/S. This reminded me of what Sandra Betzina said in her book 'Fast fit' that ''pattern size has no relation to your ready-to-wear size, so don't try to compare them''. I am a XS/S in ready-to-wear garments. I just have to be more realistic next time.
Oh well, it was a learning experience. I will give this pattern another try for sure but not so soon! I guess for now I will stick to patterns that require woven fabric instead.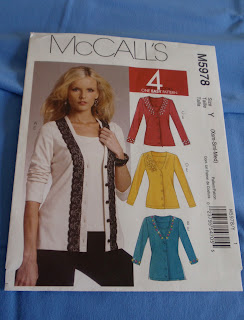 Pattern pinned ready to sew!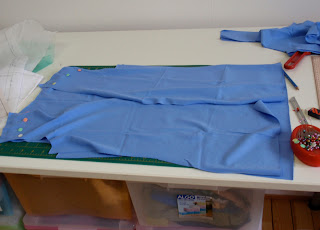 Machine set to tiny zig-zag stitch, followed the guide from Sandra Betzina book ' More fabric savvy'.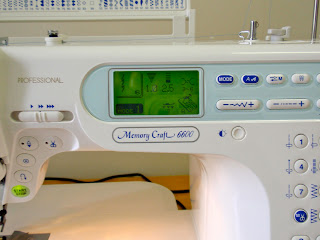 The finished garment!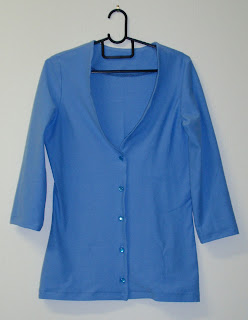 See the puckering neckline! I hate it! arrgh.....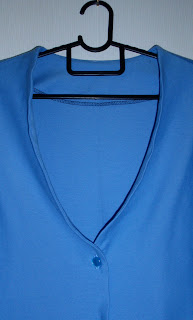 I shall not beat myself too much over this project. Many more successful sewing to come!
If anyone has any advise on how to avoid disasters like this would be of great help. I have plenty of pretty knits and I really do not want to waste fabric like this.
Thanks for coming by my blog!
Till next time, happy sewing!