Thanks to one of my fellow Youtuber
Dianeuk01
, I got to know about this company
Akamuti
. They have a skincare line which is 100% natural and organic at an affordable price. I absolutely love their products except for one. You will see why as you read on. Akamuti ships only with UK and Europe for now. However you can find the Akamuti products on ebay but they do not have a whole range as seen on their website.
So I went ahead to purchase the following items after Dianeuk01 talked about how they have worked well on her skin. I have always been into natural products and am very picky with what I put on my face. When I read about this company and how they produce their products, I was quite impress because they believe in fair-trade (in other words this company believes in trading ethically and responsibly). I am a true believer in that and one day when I own a business, it will be like that too.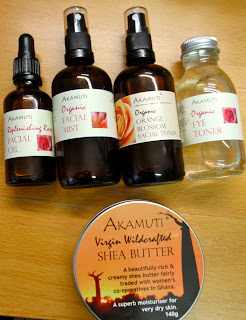 I have talked about how the products have worked on my skin so please check it out. Here are the products I got.
1) Organic facial mist 110ml -
£6.95
2) Organic eye toner -
£6.00
3) Organic facial blossom facial toner -
£6.95
4) Organic virgin shea butter -
£6.95
5) Replenishing rose facial oil -
£10.00
6) Lavender & Geranium body oil -
£6.50 (I totally forgot to include this item in my video review as it was left in my bathroom.)
I absolutely love all the items except for the organic virgin shea butter. To me the butter was not smooth when applying as it was tugging onto my skin and it smelled like old rubber/latex. However, the company did mention about the firmness and smell of the shea butter on their website. I did read it but I didn't expect it to be this bad. I will find a way to make this shea butter work for me. Just as a warning, if you are someone who dislikes the smell of rubber or is even allergic to it, I suggest you keep away from this particular product.
Now for my overall view of this company and their products.
Akamuti customer service : 5/5
(They were really good with handling complaints.)
Product packaging : 2.5/5
( The items were packed in bubble wrap and put in a normal pick envelope. The facial oil and mist bottles were made of glass, so I was quite suprised at how brave they were to pack the bottles like that without much concern about breakage and leaks. Also the fact that one of my facial mist was leaking, that clearly showed that they could improve on the packaging. See pic below and you will understand what I mean.)
(Very fast, even with the replacement facial mist. Since the item is shipped with Europe, it was fast and I was not taxed like crazy by the Swedish customs.)
(Absolutely love how the oils and mists works on my skin. I am one satisfied customer for sure)
(I will definitely repurchase from them. Maybe even buy them as Christmas gifts for my family as they have gift cards option too.)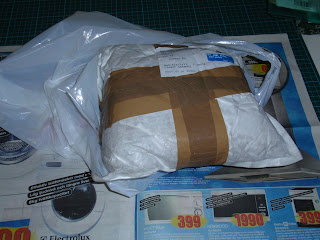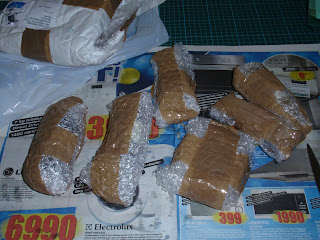 Hope this review helps you guys who want to purchase anything from Akamuti.