I am in the mood for Indian makeup looks. The reason is because Deepavali/ Diwali is just around the corner. It is on the 5th of november. I do not celebrate this festival as I am not a Hindu however I enjoy getting dressed up and going to relatives and friends homes to spend time and eat loads of good food. This is the time of the year one can get good bargains on Saris and indian costume jewelry. Every year, my mum and I would make it a point to go to Little India (in Singapore), for shopping of indian clothes and accessories. Now that I am here in Sweden, I truly miss that very much.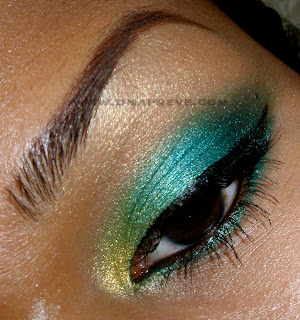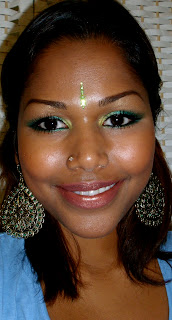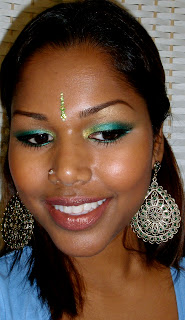 Here are the products used in this tutorial:


Eyes
Mac - Indianwood paintpot
Lakme - Green glide on colour pencil (got this in Singapore, you can google and see if there are online stores selling this)
120 palette - Green (lid colour)
120 palette - Gold (for the inner corner)
120 palette - Balck (deepen the crease)
120 palette - Yellow gold (as highlight)
Isa Dora - Chrome black liquid liner
Loreal - Volume million lashes mascara
Cheeks
La femme - Sienna (as contour)
La femme - Russet ( as blush)
Lips
Nyx - Mauve lip pencil
Nyx - Indian pink


Have a great day!